Kartoffelpuffer
Kartoffelpuffer. Potato pancakes or fritters are fried dishes of grated potatoes and other ingredients such as eggs and onions. Potato pancakes are a traditional dish in German, Bohemian, and Austrian cuisine. The dish is also widespread in some Eastern European countries.
The Swiss Rösti is similar to the potato pancake, but they are prepared without flour and eggs. Whether sweet or hearty, with applesauce, black bread, or sauerkraut, potato pancakes are popular in all parts of Germany. The names for the delicious specialty are as varied as the methods of preparation.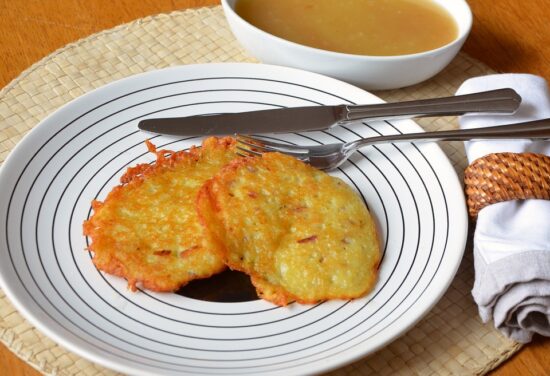 The derivation of the term  Kartoffelpuffer seems relatively clear: According to Friedrich Kluge's Etymological Dictionary (23rd edition, Berlin 1995), puffer has several meanings, but also stands for "regional for 'pancake, potato cake' (from rising when baking, ie to / puff /)".
The Duden provides a similar derivation: "Potato pancakes: the [after the" puffing "sound of the potato dough while baking] crispy brown flat cakes made from a dough of grated raw potatoes and baked in hot fat on both sides" ( Duden. The large dictionary of the German language in eight volumes, 1194).
The word is not used in the same way in all of Germany but alternates regionally with other names.  In Bavaria you eat Reiberdatschi, Täschli or Backes , in parts of Lower Saxony, Thuringia and Saxony you order Puffer, in the northeast of Mecklenburg-Western Pomerania one speaks of Kartoffelkuchen and in the Rhineland, one knows Reibekuchen. In Rhineland-Palatinate and Saarland, Kartoffelküchle are served, sometimes just pancakes. In Austria Kartoffelpuffer is the only widespread term.
Although the names of this German delicacy are quite fluid, as is the case with almost all linguistic phenomena when it comes to the preparation of food, there seems to be a certain need for certainty. These are round potato pancakes made of sliced potatoes, flour, egg, and onion that have been fried in a pan until they become golden in color and crispy on the outside. A super appetizer, snack or side dish that can be found..well everywhere really.