Döner Kebab
Döner Kebab. Germany has a long-lasting and close relationship with Turkey, one that goes back centuries. There are millions of Turks living in Germany and according to some estimates more than one million in Berlin alone (although this is not certain because the official German census does not collect data on ethnicity). A lot.
Turkey's most famous food export could not miss from Berlin's list. The famous Döner Kebab. The quintessence of fast food. Juicy grilled meat on a skewer served with a little salad, onions, a few slices of tomato, and sauce in flatbread – with and without spicy, that's how Germans know kebab.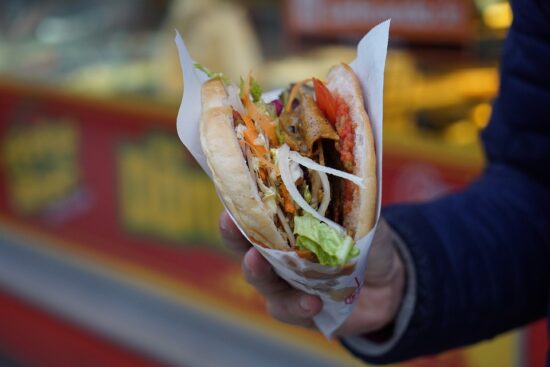 It is believed to have been invented by a Turkish guest worker in Berlin. Kadir Nurman is his name, according to the Association of Turkish Doner Kebab Manufacturers in Europe, ATDiD. Nurman came to Germany with numerous immigrant workers from Turkey. It quickly struck him that Germany was a workers' country and that people were eating out of their hands as they walked – in a very short time. In 1972 the idea came to him: "At first he only put meat in the bread.
The salad was added later », enthuses Tarkan Tasyumruk, the chairman of ATDiD. "And the sauce." In the early years, only guest workers would have eaten doner kebab in Nurman's snack bar at the zoo on Kurfürstendamm – until the Germans discovered the snack on hand for themselves. Since then, the kebab has become one of the most popular fast food dishes among Germans.
The legend persisted for a long time that the kebab was typically Turkish. "The kebab is German," contradicts Tasyumruk. In Turkey, kebab meat on the spit used to be served only once a week – in the palace and with the fine people as a delicacy on the plate. "But it was only with an update, the German version, I would say, that the kebab became established over time," says Tasyumruk. This is how the kebab ended up in flatbread in Turkey as a doner kebab.
Berlin is known as the "kebab capital" There are now 16,000 kebab shops in Germany alone. With over 1000 shops, Berlin is "the capital of kebab". According to the ATDiD association, 250 companies in the German kebab industry even supply 80 percent of the EU market. They put 600 tons of meat on the skewers every day.
According to Tasyumruk, the German manufacturers and snack bars recently achieved an annual turnover of 3.5 billion euros. There is a seal of quality for the doner kebab In order to remain so successful after the food scandals, the industry has developed a seal of approval. Only those who pass a seminar on hygiene during storage, preparation, and serving of the finished kebab will receive the ATDiD quality seal, which can be attached to the snack bar. Kadir Nurman, the "father of kebab", died in October 2013 at the age of 80 in Berlin. (Translation by berlin.de)