Aal grün
Aal grün. Eel green in a herb sauce with boiled potatoes. The eel owes its name affix "green" to the herb-fresh sauce. This fish dish has its roots in Berlin cuisine. Green Eel is not called that because the eel turns green when cooked.
Classically, the eel is cooked in a stock with vegetables, herbs, broth and a little vinegar, the stock is then made into a sauce with a roux and fresh herbs. Sometimes the sauce is mixed with egg yolk instead of roux. This version here comes from the thick German cookbook.
The recipe is a little finer – the fish is cooked in a white wine stock and served on a bed of rocket and chervil; the hot brew then cooks the salad a little. Eels are of a different nature.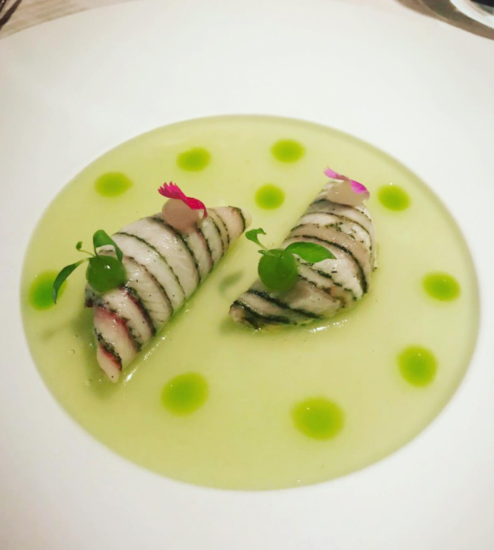 They are full of flavor but should rarely be on the table nowadays, because the stocks are not going well. at least of the European freshwater eel. This is due, among other things, to the eels' way of life and body structure – eels migrate, and because of their long, slender bodies, they often end up in the turbines of hydropower plants. The young glass eels are also overexploited.
However, the dish is among the top in the list of culinary traditions in the region of Berlin so we do include it in our as well. The eel is skinned and cut into 3 cm pieces. It is then mixed in a bowl with lemon juice, salt, pepper, and paprika powder. A tablespoon of oil is heated in a pan and the eel is fried vigorously on all sides.
It is then deglazed with white wine and simmered for 10 minutes. In the meantime chervil is washed and plucked, roughly chopped and mixed with the remaining oil, vinegar and a little salt and pepper into a vinaigrette. Boiled potatoes go perfectly well with the green eel.