Walk up to Montjuic Castle
Walk up to Montjuic Castle. Montjuic is the hill located near the center of the city where the first Iberian tribes had first settled before the coming of the Romans. The hill was ideal for them to defend against foreign invaders. In fact, various settlements have been discovered by archaeologists. The Romans built their own fort on the site after they conquered the area. The Roman remains on the hill date back to the 2nd century BC up to the 6th century AD.
One of the great riches of Montjuïc is the stone that shapes it. Stones from Montjuic have been used for most of Barcelona's unique monuments as is the case of the Roman wall, the Roman temple, the first Christian church or the Romanesque and Gothic cathedrals, to name a few.
The proximity to the sea was ideal for the trade and transport of the stone blocks to the area where the Barcino colony was located. In the early middle ages a small promontory, facing the sea,  a watchtower (1031), and a lighthouse (1091) are mentioned in contemporary texts while a Jewish necropolis that dates back to the period between 9th and 14th centuries on the northern slope of the mount has been discovered. There were also several churches that are mentioned as well as the Hermitage of Sant Ferriol, none of which have survived.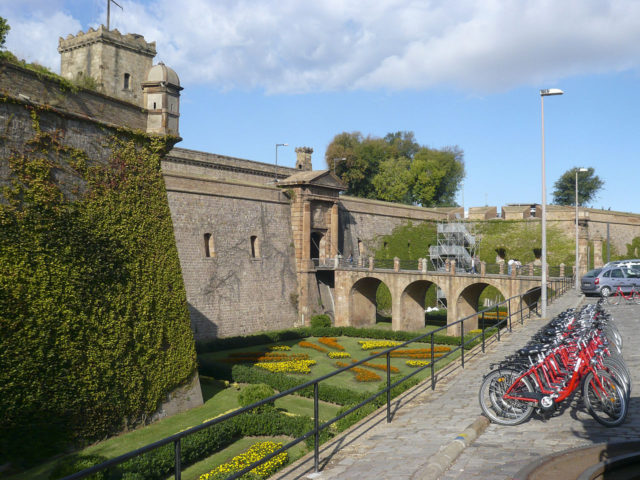 With the onset of the Revolt of Catalonia (1640-1652) the Consell de Cent municipal government decided to fortify the summit of Montjuïc by surrounding the lookout tower with a wall, giving it importance as a defensive stronghold and marking the beginning of the militarization of the hill. Faced with the threat of a naval siege of the city by the Spanish fleet of Philip IV, in 1640 the population was mobilized in face of the need to defend the capital and proceeded to build, in just thirty days, a small quadrangular fortification with four demi-bastions at the corners.
The troops of Philip IV were forced to retreat after attempting to capture the summit in the so-called Battle of Montjuïc, which took place on 26 January 1641. With the capture of Barcelona by Philip IV in 1652, the castle became the property of the Spanish monarchy and a permanent garrison was placed there… (More about the history of the castle ).
The walk from Plaça d'Espanya, up to the Palau Nacional & the Magic Fountain, to the Pavilion of Mies van der Rohe was constructed for the International Exhibition of 1929 & reconstructed in the 1980s since it was considered one of the artist's most influential works, to the Poble Espanyol up to the Montjuic Gardens & the historic Montjuic Castle, which by any means is not that hard, is definitely one of the best walks you can have in this city.