Walk La Rambla
The most popular stroll that one can take in Barcelona is without any doubt the walk from Plaça de Catalunya to the Columbus Monument down to the city's waterfront. The pedestrian road in between the two sites known as La Rambla is always packed with swarms of tourists & locals, incessantly walking up and down the pedestrianized street.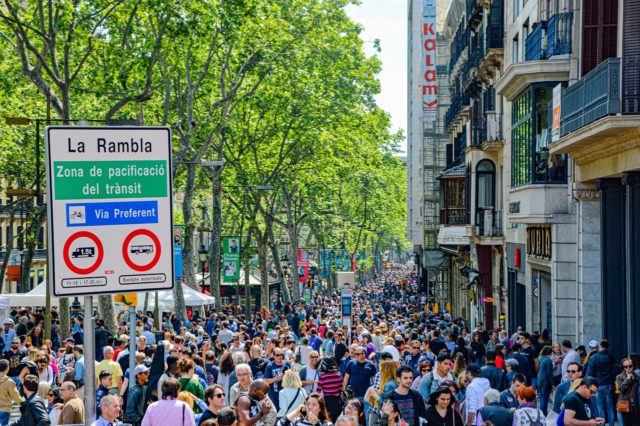 Half-way between Plaça de Catalunya and the seafront a series of flower stalls mingle their lively colors perfectly with the ones of the moving human mosaic. Barri Gòtic to the east & El Raval to the west of La Rambla are attached to the two flanks of the street which is divided into a series of shorter ramblas, each with its own different name (hence the plural Les rambles in Catalan, Las Ramblas in Castillan), that together form the full line of La Rambla.
The tree lined pedestrian zone has several notable sights, like the mosaic by Juan Mirò, the Font de Canaletes and several historical buildings along its two sides like the baroque Palau de la Virreina, the renowned Opera House Gran Teatre del Liceu, the oldest theatre in Barcelona which is Teatre Principal & others. The 60-meter tall column of the Columbus Monument at the end of La Rambla, built in 1888 is hollow. An elevator lifts you to a platform that can give you excellent views of the Rambla & Port Vell.