Gegratineerde witloof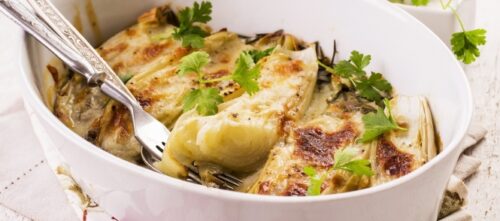 Gegratineerde witloof or Chicons au gratin. Belgian endive (called witloof' in Dutch or chicon in Belgian French) has an ivory-white head with pale yellow-edged, closely wrapped leaves, a mildly bitter flavor, and tender juicy texture.
The traditional Belgian recipe is a gratin of Belgian endives in bechamel sauce with melted soft white cheese on top. Sometimes the endives are wrapped with ham.
It's a very common dish generally in Belgium but specifically in Antwerp one can find lots of delicacies that include the chicory or witloof. Our choice of restaurant for this one is a pillar of Flemish cuisine in Antwerp.
In a few places, the real Antwerp atmosphere becomes as tangible as in De 7 Schaken. The legend of the city's ancestors continues in the corner building on the Grote Markt.