Munttoren and Bloemenmarkt
At the south end of Kalverstraat, the shopping street finally opens up to the Muntplein, the square of Munttoren and the Bloemenmarkt that lies a breath away. The large 17th-century Renaissance tower with the carillon used to serve as one of the city's gates in the middle ages. It also served as a mint in the 17th century. The mint would give this place its name (Munt=Mint).
Today's building is a neo-Renaissance construction of 1885. It has replaced an older tower that had been built in Renaissance style in 1620. That too had replaced the first building on the site, the Regulierspoort, a city gate with two towers and a guardhouse. built between 1480 and 1487.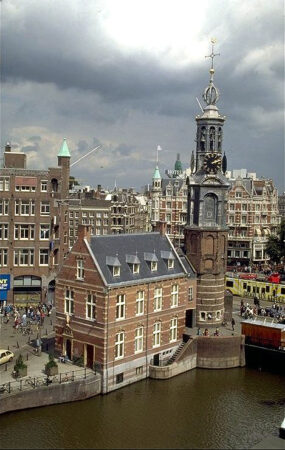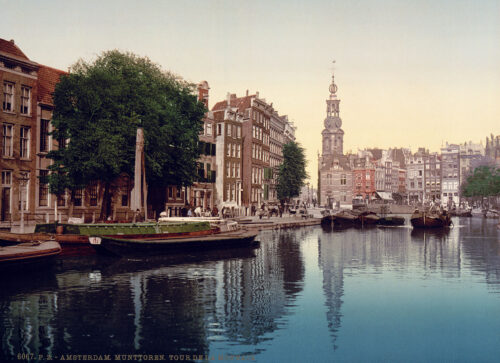 Munttplein is not a square where you can sit and enjoy the scenery. It is a noisy traffic hub where cars, buses, trams, and bikes converge from six different directions in what is in reality the widest bridge in the city. The bridge crosses the water at the point where Amstel River meets Singel Canal.
Right across the bridge lies the eastern end of the world-famous Bloemenmarkt, the Floating Flower Market of Amsterdam. This is the only floating flower market in the world and of course, is famous for that. When you face the line of the floating flower stalls you cannot discern nor imagine the explosion of colors that lies on the other side. This market is on the same spot since the year 1862 when it was first founded. From then on it has supplied Amsterdamers and tourists with millions of bulbs and flowers of all sorts and varieties.
Potted plants, loose tulip bulbs, and seed packets ready for export, and of course the typical and omnipresent Dutch souvenirs are lined across the Singel in these fragrant and colorful market stalls with the vendors always ready for a bargain price (especially when you buy a bunch). After all what could be a better commemorative of your trip than a tulip that you will bring back from Amsterdam?