Put another pin on your travelling map.
Put another pin on your travelling map. Amsterdam has the great advantage of being in a very close proximity to many other interesting cities of Netherlands and Belgium. Depending on your time you can easily pay a visit to most of them with a short trip that does not take more than 2.5 hours at the most.
Utrecht is a great choice just half an hour away by train, with trains leaving every 15 minutes from Amstrdam's central station. It is a city with a picturesque and rich in amazing architecture historic center engraved with scenic canals very much like Amsterdam's. Start from Domplein square, the square surrounding the city's cathedral, an impressive Gothic structure that has its origins in the very beginning of the city.
Take a stroll in its idyllic courtyard garden and climb up the 112 meters tall Dom Tower for a bird's eye view of the historic center or descend into the cellars for the famous DOM Under tour.Explore its charming old town, its beating heart the Stadhuis Quarter and Stadskasteel Oudaen city castle,  the Ledig Erf at the south end of the city where you will find several interesting pubs if you want to grab a drink including the Louis Hartlooper Complex, a former police station turned into a cultural hub. This city has it all , too much to include in a short paragraph. Go and explore.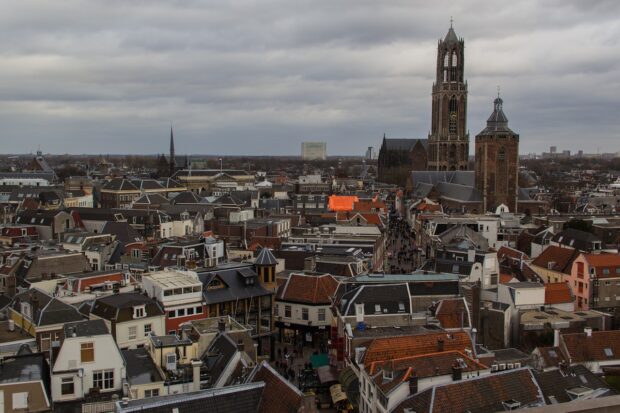 Another choice for a day trip just an hour away by train is the small in size but great in charm city of Delft. Delft is probably the most picturesque city of Netherlands. It is a mix of all the typical Dutch ingredients that make Netherlands a favorite among tourists. Beautiful cathedral, a well preserved historic center, cute little canals, bikes and coffee shops, all in a compact small size. So much so that tourists who prefer a calmer, more relaxed atmosphere often stay in Delft and do their day trips to Amsterdam instead. It's so close after all.
Although Delft is a pretty old city (it officially became a city in 1246 but it is way older than that) it gives you the feeling of a young vibrant city due to its large student population. Young and vibrant but still, calm in a way only a small Dutch town can be. A very attractive combination.
The third and equally alluring suggestion is a city in the neighboring Belgium that is only 1 hour and 17 minutes away by train (on average). It is a city that breaks away from Amsterdam's mold. It will not remind you of the Dutch capital as much as the other two. Sure you will notice similarities in the architecture of its historic buildings and yes it also has a river but you won't find canals.
That "deficiency" goes unnoticed due to its aristocratic feel and fine aesthetics. It was after all the trading capital of Northern Europe for quite some time. It still is the diamond capital of the world. You can  smell the money in the atmosphere. Elegant retail shops and fine dining restaurants,  thrilling modern museums like the MAS (Museum aan de Stroom) (https://www.mas.be/en), the house-museum of Rubens and of course the amazing Grote Markt square where you can sit back and take it all in with the help of a refreshing drink.
All three options are cherry picked according to the subjective tastes of the writer. There are numerous more like Harleem (just 17 minutes away by train) Leiden (30 minutes away by train) the Hague (50 minutes),  Brussels (about 2 hours away by train) that are equally attractive.