GET INSPIRED BY LIGHT ART
From the 1920s onwards, light art gained a prominent stage in the public space of large European cities, also in Amsterdam. In October 1929 the first Dutch 'light event' took place: The Edison Light Week. Various buildings were decorated with light bulbs, which attracted large groups of curious visitors. There was an illuminated Fokker airplane circling above the city and a water parade, where illuminated boats made their rounds on the canals. The Amsterdam Energy Company (GEB) illuminated the city until it was privatized in the 1990s. The desire to make the city attractive again with light prompted various Amsterdam entrepreneurs to develop new initiatives. For instance, 'Yule' was organized twice, in 2003 and 2004.
Amsterdam Light Festival originated from the 'Christmas Canal Parade', held for the first time in 2009. The first people involved were Vincent Horbach, Henk Jan Buchel, Felix Guttmann, Raymond Borsboom and Rogier van der Heide.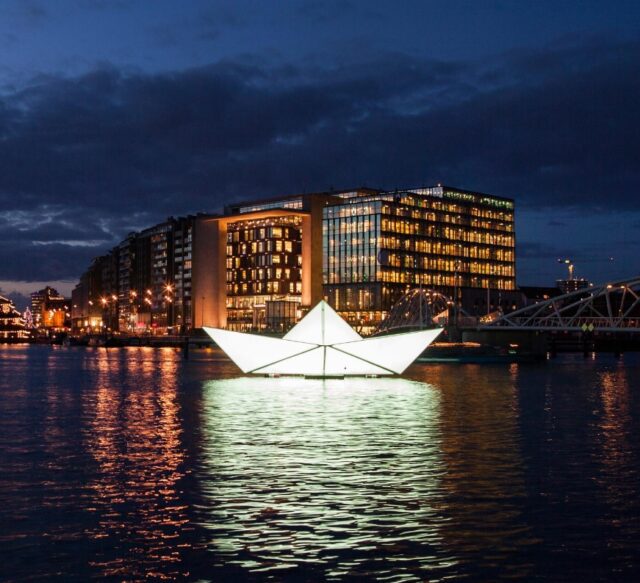 In 2010 they organized 'Winter Magic Amsterdam', with a boat parade and multiple side activities. Raymond Borsboom was responsible for the management, together with a team. Internationally recognized light designer Rogier van der Heide illuminated the iconic Skinny Bridge for three weeks and suggested that the festival should concentrate on light art from then on. This led to a new focus: Amsterdam Light Festival was born.
In 2021/2022 2021 – 2022 Amsterdam Light Festival celebrated its tenth year! The anniversary edition – with the corresponding theme 'Celebrate Light' – drew hundreds of thousands of visitors, despite the restrictive Covid-19 measures. The art was a beacon of light for many people during a difficult period of lockdown. The route consisted of the highlights of the past editions, but there were also new works, such as 'Darth Fisher' by Amsterdam-based artist Streetart Frankey. At the policlinic of the Amsterdam UMC (location VUmc) the artwork 'Today I Love You' was placed permanently. For 2023/24 the dates are: 30/11/2023-21/01/2024
Follow this link for more