Rixoto de gò
The Rixoto de gò is the most typical Venetian dish in the big palette of risotti di mare that one can find in Venice. Goby is a tiny little fish that is very common in the Venetian lagoons but cannot be used in much else than broth.
The fish are gutted and cleaned from gills and scales and then placed in a saucepan with cold water, onion, fennel, and celery. They are then simmered for an hour until the yellowish fish stock is ready to receive the sauteed olive oil rice that is cooked in the marine broth, and flavored with some white wine. The bliss is completed with some Parmesan cheese and some finely chopped parsley.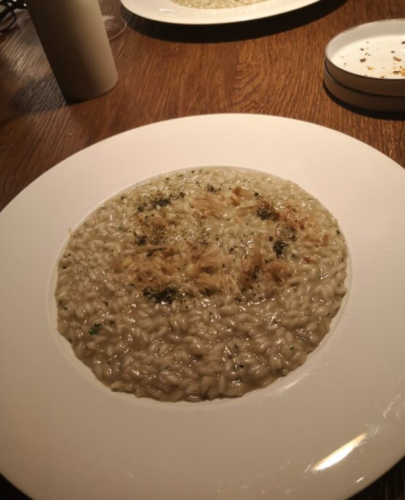 LOCAL was opened in 2015 by sister and brother Benedetta and Luca Fullin and it is reinventing a New Venetian Cuisine with creativity and research, thanks to a passionate young team. Head Chef Matteo Tagliapietra's style of cooking has a direct and very refined soul. He takes inspiration from the rich Venetian tradition, the biodiversity surrounding Venice, and from his life experience in London, Japan, and Scandinavia.
Hospitality in the house is led by Maitre Sommelier Manuel Trevisan who is dedicated to making Guests feel at home with attentive and friendly service. His passion for wine started at a very young age. The stories behind the dishes are rooted in tradition and projected into the future. From the risotto with gò, a recipe invented on the island of Burano in the 16th Century, to the 12-course menu featuring the best ingredients from the lagoon, the sea, and the land, but also exotic flavors, just like it used to happen in Venetian cuisine during the Serenissima time.
Local brings to the table Local traditions, Local ingredients, and New cooking techniques with creativity and passion. The airy and bright restaurant overlooks a beautiful canal in the area of Castello, a short walk away from the Biennale of Art and from St Mark's Square. The interiors have been crafted by local artisans, from the terrazzo floor with 3500 glass murrinas in it, to the tables, chairs and the beautiful wine cellar handmade by Remo Pasquini.
Guests can see the chefs at work in the open kitchen. Local right after its opening received a full review in the New York Times, was listed in the Michelin Guide, 2 hats in the Espresso Guide 2020, 2 forks in the Gambero Rosso 2020, and Benedetta Fullin was nominated Woman of Sprit 2020 in the Venezie a Tavola guide.