Baccalà mantecato alla veneziana
Baccalà mantecato alla veneziana. There is a famous saying in Venice that goes like this: Done, cani e baccalà no xe bon se no xe pestà (women, dogs, and cod are not suitable unless they are beaten) which comes from the fact that until after WWII, the cod was still being hit on the paving stones of Zattere by the laborers of the burci (the burcio is a large vessel or cargo in use in the Venetian lagoon) and the trabaccoli (the lugger, or trabàcco, is a fishing vessel and/or cargo typical of the Middle and Upper Adriatic).
The history of baccalà dates back to April 25, 1431, when a Venetian ship, full of spices, departed from the island of Crete under the command of the sea captain Piero Querini headed for the North Sea. When it reached the English Channel, the route was disrupted by a violent storm which, after breaking the mast, dragged the ship on for days towards the north. Looking for safety aboard the lifeboats, the surviving sailors landed on the uninhabited rock of Sandoy, in the Lofoten Islands in northern Norway.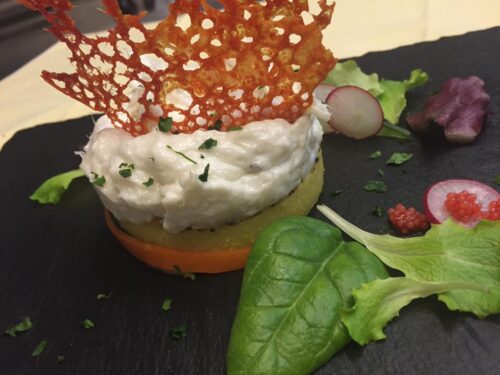 After a few days, the local fishermen spotted them and brought them to safety on the island of Roest, which later the Venetian sailors called an earthly paradise (so much so that some of the sailors decided to stay there for ever) because of the great freedom and simplicity of the customs and habits of the inhabitants.
Several months after the shipwreck, coming back from the hospitable Lofoten Islands, Captain Querini brought back 60 dried stockfish, telling the Venetians how the Norwegians dried the fish in the wind until it became as hard as a wooden stick and then they beat it and spiced it turning it into a soft and tasty mix.
The language aspect is also interesting: the cod was called by the people of Northern European stock (stick) fish, while the word used by the Venetians was baccalà for its similarity with the Portuguese word bacalhau and bacalao in Spanish terms, derived from the Latin, meaning baculus, stick. The Spanish and the Portuguese, however, were referring to that type of cod that despite starting from the Arctic Sea, goes towards Labrador and Newfoundland, where it was caught and preserved in salt.
(Description by https://www.monicacesarato.com/blog/) . A great place for this kind provider of our photos is the Restaurant Antica Trattoria Poste Vecie. This restaurant offers mainly all the dishes of the Venetian tradition, the famous cod fish, the spider crab, cuttlefish Venetian and other delicacies made mostly of fish.
The restaurant Poste Vecie has the good fortune to rise in the heart of the fish market and fruit and vegetables, allowing it to always have fresh products in step with the seasons. The Restaurant dates back to the 16th century, making it the oldest operating restaurant in Venice, with its building initially used as a post office by the Venetian Republic.