Enoteca Italiana (Wine)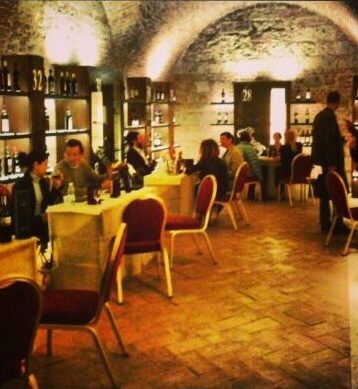 The Enoteca Italiana, a public institution unique of its kind in Italy, was founded in 1960 as a tool for the Ente Mostra Mercato Nazionale dei Vini a DOC e di Pregio (National Fair/Market Board for DOC and Premium Wines), instituted earlier in 1933 and recognized by Presidential Decree in 1950. Its purpose is to inform people about Italy's great wines and wineries, and valorize and promote them.
It is headquartered in Siena, in the northwestern bastions of the Medici Fortress an imposing yet harmonious testimonial to 16th-century military architecture, designed by Baldassare Lanci for Cosimo de' Medici I where more than 1,500 wines are on permanent display after having been carefully selected by a judging committee. They were chosen from among more than 600 wineries that now, thanks to a computerized system unique of its kind, "dialogue" with visitors, providing a meaningful look at the Italian wine world.
Wines can be tasted here inside the Enoteca or on its splendid terraces and bought or ordered for delivery in Italy and abroad; information and documentation are provided about these wines and the wineries making them.

The wines exhibited at the Enoteca are therefore a representative selection of Italy's finest wines: DOCG (Denominazione di Origine Controllata e Garantita – Controlled and Guaranteed Denomination of Origin), DOC (Denominazione di Origine Controllata – Controlled Denomination of Origin), IGT (Indicazione Geografica Tipica – Typical Geographical Provenance), and especially fine table wines, including sparkling and special wines, distillates and typical liqueurs.
The Enoteca also organizes courses, meetings, conferences, seminars and cultural events (wine and music, wine and art, wine and poetry, and the like) and, in June, its traditional "Wine Week", plus the more recent "National [Olive] Oil Week" held in February. It exhibits at events and fairs in Italy and abroad and is also publisher of prestige works such as "Il Paese del Vino – Wine Country".