Santa Maria della Scala
Right in front of the Duomo's facade in Piazza del Duomo a massive museum complex and one of the oldest remaining buildings in the city of Siena, the Santa Maria Della Scala. The monumental spaces of the ancient hospital span through various levels that go down from the top of the hill of the cathedral down to the slopes. From the entrance of the museum placed at the level of the Cathedral square the reception areas lead to the hospital wards, the famous Pellegrinaio with the fifteenth-century frescoes, chapels, and the church of the Santissima Annunziata.
The level below the so-called vorticella is an actual hub of paths that carry the visitor to the medieval barn, the seats of two brotherhoods ( the Company of regulated under the vaults of the hospital and the Society of Saint Catherine of the Night) to the warehouses and the little courtyard, where the Treasure of Santa Maria della Scala is displayed.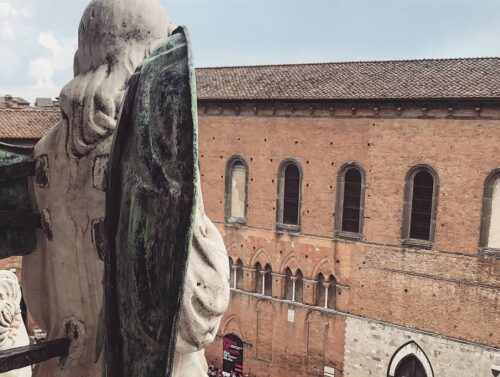 From the Corticella the path descends to the so-called "tunnels" where, along beautiful spaces carved in sandstone and built in brick, we find the national archaeological museum of Siena. The historic narrative of the story of Siena from its origins to the Middle Ages.
A huge complex, almost a "quarter" of the city in its own right, erected opposite: the Cathedral begun at the turn of the 12th century and virtually completed by the mid-15th century, Santa Maria della Scala first saw the light of day as a medieval hospice-cum-hospital with multiple functions including sheltering travelers and pilgrims, caring for the sick and the needy and offering abandoned children a new family.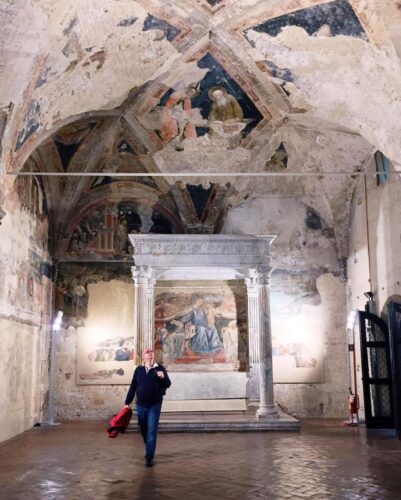 When its life cycle as a venue for healthcare came to an end in the late 20th century, the complex became the object of a grandiose restoration project that is still ongoing today. The project has allowed it to maintain its ancient calling as a place of welcome, now in the guise of a museum complex in which visitors can explore its astonishing architectural, artistic, social, political, and economic history going back almost a thousand years.
The hospital's potential and complexity spawned a lively debate in the 1980s regarding the possibilities for renovating and reusing the imposing structure with the involvement of interesting research workshops hosted in it, right up to the international call for ideas launched by the municipal authorities in 1992 which awarded the restoration to Studio Canali from Parma.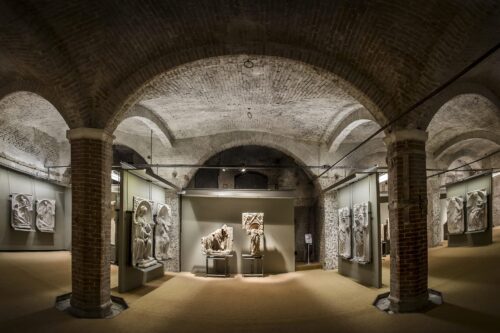 The complex's history and calling encourage its management today to renovate more of the as-yet unrestored areas of Santa Maria to develop it from a pure museum into a center of cultural and creative production interacting with its museum activities but open to other forms of artistic and cultural expression. More