Piazza di Postierla
Piazza di Postierla is one of the most notable squares in Siena. Following Via di Citta further down, beyond Via del Castoro, we pass several historic buildings like Palazzo Marsili, the Gothic palace built in 1459 in the place of an older one that had collapsed a few years earlier, in stone (lower part) and terracotta brick and Marsili-Libelli further down bearing the coat of arms of the Piccolomini family on its facade where a postal office and an association of Architectural and Environmental Heritage are housed today.
Your eye view opens up again when you reach the pretty square of Postierla also known as "Quattro Cantoni'. You will easily notice a column that until a few years ago carried a 16th-century marble she-wolf, an ancient symbol of the city. Today the prototype is in the Civic Museum.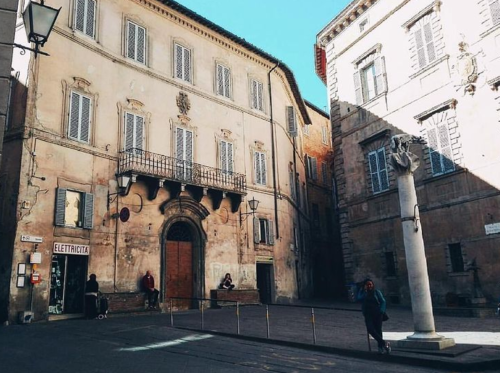 Other notable buildings are the Chigi-Piccolomini palace made by Riccio, in the mid-sixteenth century, a complex with rich stucco decorations and amazing 16th-century interior frescoes, the Palazzo Borghesi, at the corner of Via di Citta and Via San Pietro built in the first half of the thirteenth century and completely remodeled in 1515 by the Borghese family, one of the most prominent noble families of Siena and integral part of the government of the nine.
The facade of the palazzo was decorated with impressive mythological scenes that are sadly no more and was connected with the tower on the other side of the square, the Torre dei Forteguerri for the family to avoid a meeting with a rival family that resided in Stalloreggi St.