Solomillo al whisky
Solomillo al whisky. Translated into Pork Sirloin with whiskey this one is a typical tapa from Seville, which we can find in almost all Sevillian bars but since it has spread considerably outside the city, it is very common throughout Andalusia. It is a very easy dish to make that consists of some pork tenderloin cooked with whiskey, broth and a lot of garlic, it is served with fried potatoes.
This delicacy has probably its roots in the 70s and a yet unknown bar in Seville that some say it was to offer more innovative cuisine and others that it was by chance when the brandy ran out and the cook dipped the meat into the whiskey. Whatever the truth this is one of the most common tapas you can find in Seville.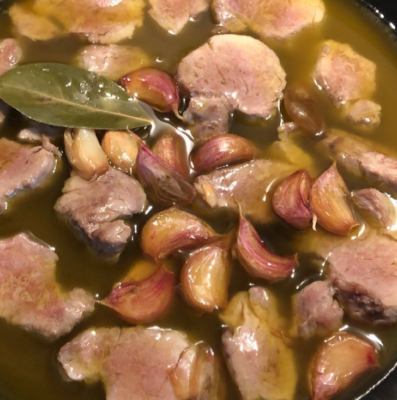 For some of the best Solomillos al Whisky you can head to the Universal People Bar. This Bar lies in front of the Church and Plaza del Salvador , the center of the young scene in Seville. It is a bar-restaurant that renews classic Seville. Many years of history guarantee their work with the Sevillian public and tourists from all over the world. The decoration creates an exceptional space in the center of Seville . Wooden ceilings, modern lighting, a collection of photographs , retro vinyls and a long list of surprises that are added to our little place. The star of Universal, the quiet terrace at the epicenter of Sevillian tapas.