Caballa de Andalucía
Caballa de Andalucía. According to foodswinesfromspain.com Preserved caballa (mackerel) fillets in olive or sunflower seed oil, are prepared by hand. The raw materials used in mackerel preservation come from the Scomber japónicus and Scomber Colias species. The fish products preserve industry in Andalusia is part of a time-honored tradition that is still active today. The Andalusian preserves industry continues to uphold the features that give it outstanding quality and that can be defined as follows: the local fish species found in Andalusian coastal waters, the family companies that have been making preserves for generations, and the traditional artisan methods they employ. In other words. This is one worth trying.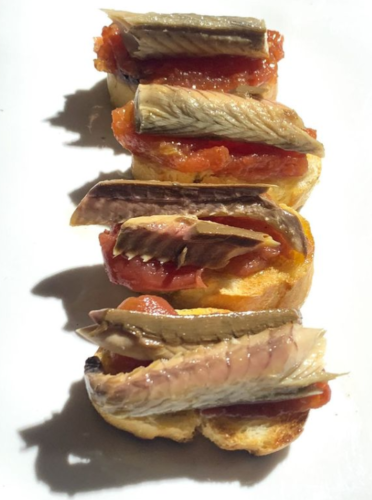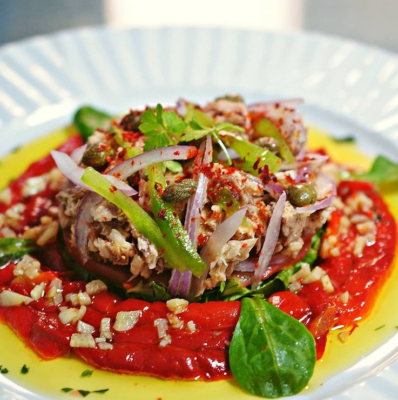 Now if you go into the website caballaymelvadeandalucia.com the website of the official Andalusian Mackerel and Melva Regulatory Council, born from the union of several Andalusian canning entrepreneurs, with the intention of protecting the traditional and purely artisanal processes of making their products, then you'll be amazed to find 40 different recipes of Caballa de Andalucía that will make you run to the nearest tapas-bar asking for it. So where you should go for a proper taste of this? Well, this time it won't be a tapas bar. Have faith. This needs proper care. And proper care you shall have if you try Caballa at Sobretablas Restaurante.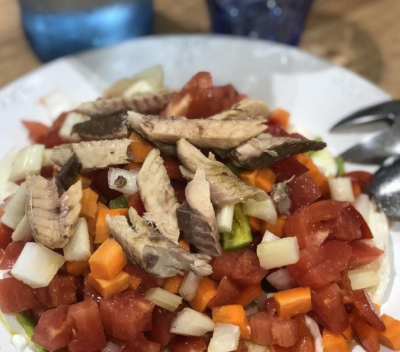 Camila Ferraro and Robert Tetas, cook and sommelier respectively, with great professional experience in the world of haute cuisine, offer a new gastronomic proposal in Seville. Camila has been responsible for cooking in several Michelin-star restaurants, both in Andalusia and Catalonia, and Robert has been awarded as the second-best sommelier in Andalusia and Catalonia.
It is in the Celler de Can Roca restaurant where they meet and after the years they decide to undertake this new restoration project. A unique restaurant located in the Porvenir neighborhood in a building built in 1929 for the Ibero-American Exposition, which preserves the original layout and façade, with different environments that include lounges with private spaces and a large terrace. Sobretablas is a restaurant to celebrate lunches and dinners in a relaxed atmosphere, with a culinary offer that recovers traditional cuisine with new flavors and elaborations in a menu that is renewed each season. An evolving kitchen with great respect for the product, with new techniques and paired with the best wines.
Since its opening in October 2018, Sobretablas has been welcomed in the city of Seville as a new culinary proposal and has been awarded different prizes and recognitions such as "Best Opening 2018" by Gurmé Sevilla, "Best Cook in Seville 2019" by Talento Gastro, finalist "best sommelier 2019 in Seville" by Gastro Talent, new Big Gurmand 2020 in the city by the Michelin guide, recommended by the Repsol guide and best revelation cook in Spain in Madrid Fusión.