Youth Hostel Luxembourg-City (Youth Hostel)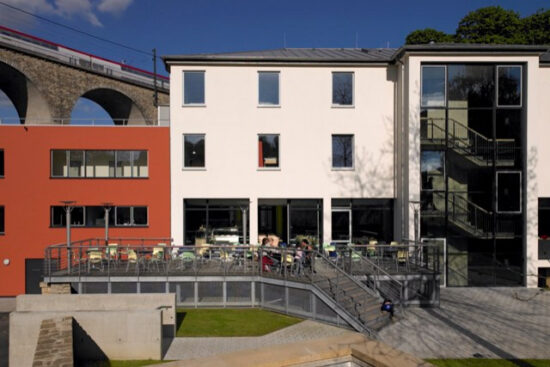 Castle ruins and the European Court of Justice, banks and art museums, international vibe and traditional markets – contrasts enliven the cityscape of the capital of the Grand-Duchy of Luxembourg with its youth hostel, located at the edge of the UNESCO zone below the bock promontory.
Those who want to discover Luxembourg's eponymous capital city or 'd'Stad' as the Luxembourger call it affectionately, with its old fortress walls, the numerous museums, boutiques and squares and bistros inviting to take a break, should stay at the city hostel. The modern, affordable and biggest youth hostel of the country lies in the heart of the Pfaffenthal between the historic old town and the modern Kirchberg Plateau. But do not worry! Even though the youth hostel is located in the valley of the Alzette, the upper and lower town are connected through a panoramic lift and a funicular worth the ride because of the astonishing view. Affordable overnight stays in modern rooms enable those travelling alone, backpackers as well as families and groups to spend a holiday full of experiences in the heart of Europe.
And those thinking that in Luxembourg the only language you'll hear is 'Lëtzebuergesch' are mistaken. Just settle down on a nice terrace and you'll be overwhelmed by the multiculturalism and the numerous languages you will hear. The 'Melting Pot', the in-house restaurant of the youth hostel lives up to its name. It's the place to be for local residents as well as tourists from every part of the world. And how to best enjoy your stay? With a nice meal and a refreshing beverage of course! The kitchen team prepares every day fresh and seasonal menus as well as specialties 'à la carte'. During summer, the terrace with its beautiful view of the old town welcomes its visitors while the children enjoy the playground. More