Explore the Grund
Explore the Grund. Explore the most enchanting neighborhood of the Old City. At the feet of Ville Haute, on the banks of the Alzette River, overlooking the Bock promontory and the old fortress that rises above it, this picturesque quarter with its narrow paths and traditional old houses is also part of the UNESCO World Heritage list and there is a very good reason for that.
Situated deep in the gorge with some of its stone houses built directly into the Rock's face, the pedestrianized old neighborhood, with its lazy river and Medieval houses with their perfect window boxes overflowing with flowers has a lot more to offer besides the beautiful mirror images of the scenic buildings reflected in the still waters of the river.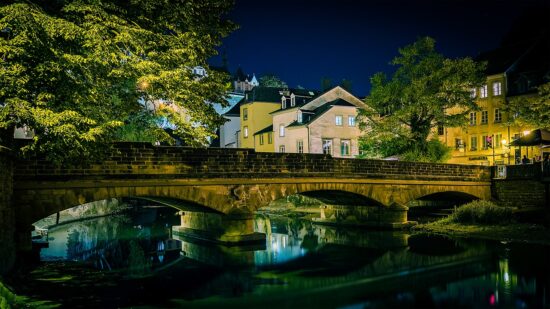 Numerous pubs, bars, and restaurants have transformed this centuries-old quarter into one of the most lively and multicultural areas of the city, especially vibrant during the nighttime. Besides its general charm, the Grund has also important landmark attractions that can easily steal a whole day out of your travel itinerary. First and foremost the Neumünster Abbey was built by the Benedictine monks in 1606 after the original Altmünster (old monastery) was destroyed in 1542.
The new monastery was in its turn destroyed by fire in 1684 only to be rebuilt on the same site in 1688 and extended in 1720. After the French Revolution, it served as a police station & prison before it was turned into a barracks for the Prussians after Napoleon's defeat in 1815. From 1867 it once again became a state prison while in WWII and the Nazi period, it became a Gestapo prison.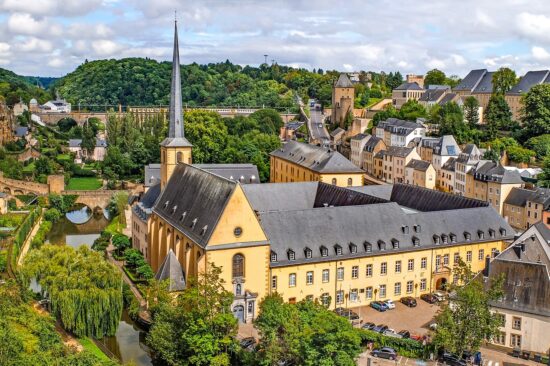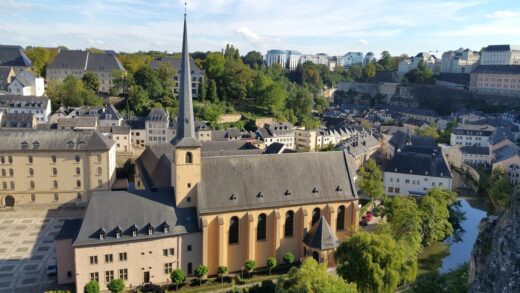 After 1997 it was transformed into the home of the European Institute of Cultural Routes starting in 2004 and after extensive renovation works, it has been a public meeting place & cultural center, hosting an array of concerts, seminars & exhibitions. Many works of the sculptor Lucien Wercollier Cloister, are permanently displayed here. More info
Conveniently located next to the Abbey is the Natural History Museum of Luxembourg. The museum is composed of eight separate scientific sections: botany, ecology, geology, mineralogy, geophysics, astrophysics, paleontology & zoology. Especially informative for young children this family-orientated museum and its interactive multimedia system offer its visitors a various range of enlightening tours about natural habitats and animal species.
A walk inwards (opposite direction to the Bock and Alzette Rivers) will take you to the Rham Plateau, one of the oldest inhabited areas of the city of Luxembourg where French fortress engineer Vauban built 4 military barracks at the end of the 17th century. The barracks housed several social institutions after the 19th century, with some of them still operating today. It offers magnificent views of the Corniche and the Citadel de Espirit.