Traditional British Desserts
Traditional British Desserts. If you think the traditional main menu of the city wasn't enough of a reason for you to become a fervent supporter of the British cuisine the selection of its time-honored desserts may change your mind. Sticky Toffee Pudding is a recipe for a dark sponge cake soaked with sweet toffee sauce (sugar, butter & cream) usually served with cream, custard, or vanilla ice cream. It comes from the early 1900s & has been a British classic since then.
The Chelsea Bun is a spiced yeast dough, that's rolled out & topped with currants, sugar, cinnamon & butter, coiled into a spiral roll, and baked after it's covered in a sweet sugar glaze.
The first one was produced at a Chelsea bakery in the 18th century. The Fruit Crumble is a summer favorite since the 1940s. Τhis fruit mishmash can be found in many different variations throughout London but its original recipe includes stewed apples, blackberries, rhubarb and gooseberries that are covered with a crunchy crumble topping of sugar, flour, and butter that is best eaten hot accompanied by a cold ice-cream ball. Definitely, the oldest on the catalog, the Trifle has been around since the 1500s.
The main ingredient is a thick custard, layered with sweet sponge cake, fruit jelly, fresh strawberries or raspberries, cream & a bit of sherry. Bread & Butter Pudding has served as a sweet finishing touch on the English table since the early 1700s.  It's another example of smart recycling of leftover food, on this occasion stale bread which after being buttered is layered with cream, raisins, cinnamon, nutmeg, and a mixture of eggs, sugar & milk.
The list is completed with the 18th century Eccles Cake, the raisin-filled cake made with buttery pastry topped with coarse sugar, the Victorian era teatime treats called Crumpets and the sugary mixture of crushed meringues, fresh chopped strawberries & whipped cream called Eton Mess. All of them are absolutely binge-worthy.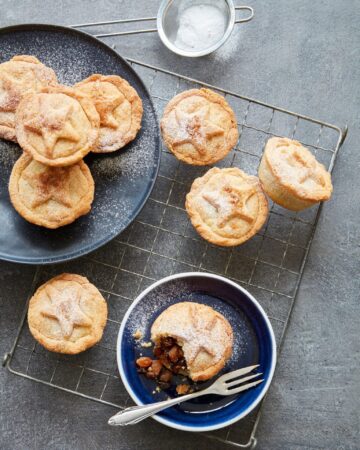 For some of the best desserts in the British capital you can try Cutter & Squidge in Soho. The two sisters that started this place have a passion of inventing new products or recreating time honoured classics and experimenting with flavours so that they can offer their take on old favourites alongside cutting edge taste sensations.