Jellied Eels
Jellied Eels are another delicacy one can find in one of the Eel & Pie Houses of London and is among the most traditional treats to survive to this day. Although the sound or the look of it may not inspire you for a try it actually tastes really good and is currently becoming popular outside the capital for the first time.
This gelatinous synonymous of London East End is prepared with freshwater eels chopped into rounds & boiled into water & vinegar, nutmeg & lemon juice. The cooking process releases proteins like collagen into the liquid which solidifies to form a jelly.
Various herbs change depending on the shop or the street seller but what is standardized is that it is eaten with chili or vinegar & white pepper. If you can bypass it's admittedly off-putting looks its taste is great & definitely unique.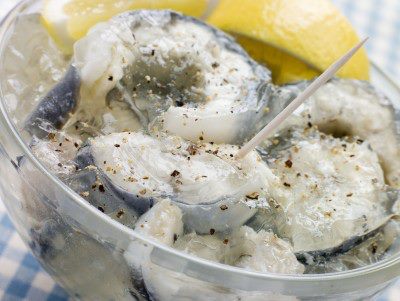 A perfect suit for this and the previous dish of eel pie is a restaurant that is considered an institution in London. Goddard's is another family-run restaurant that goes back to 1890 when Alfred Goddard opened the first Goddard's Pie and Mash business in Evelyn Street, Deptford, London.
In 1952, another shop was opened in Greenwich at the same time as the Cutty Sark was placed in a dry dock. All the pies in this place are handmade. It is their specialty and what they're famed for for decades but the jellied eels are the second pillar of their menu. Every true Londoner knows the place so be sure to stop by. More