Hotel 32 Krakow Old Town (3 Star)
Hotel 32 Krakow Old Town (3 Star). Hotel 32 is located in the center of Kraków's Old Town at Zwierzyniecka 32. It is a chamber hotel, located in an old tenement house, tastefully and elegantly equipped, fully adapted to the modern requirements and needs of our guests. Hotel 32 has a 24-hour reception, which is always at your disposal, large spacious lobbies, and a lift.
On the ground floor, there is a restaurant serving delicious breakfast in the form of a buffet. From 12.00 p.m Italian and Mediterranean dishes a la carte as well as room service. Hotel 32 offers 32 rooms in three categories: Standard, Deluxe, and Superior In the near distance (200 m) there is a city parking for cars and coaches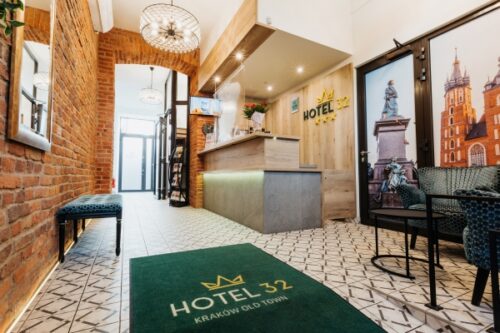 .
Elegantly furnished interiors in a historic tenement house have facilities for guests. All rooms are finished in a way that combines tradition and the historical character of the place. At the same time apartments and the rest places in the hotel (halls, reception, restaurant) are fully functional and provide guests with comfort during their stay.
When booking rooms in our hotel in the center of Krakow, our guests have the opportunity to feel the unique atmosphere of the Old Town, its bustling streets, charming cafes and the spirit of the past. With us, you will be able to relax after a day's sightseeing. The interiors are decorated cozy and very comfortable with a note of elegance.