Art Hotel Villa Agape (Boutique Hotel)
In the amazing setting of Piazzale Michelangelo, a short walk from the scenic area of the Arcetri Observatory in Florence, stands the romantic Art Hotel Villa Agape, former Villa Arrighetti owned by the Duchess of Aosta.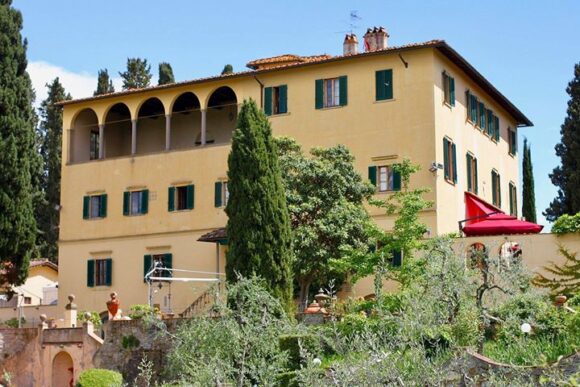 The Villa, thanks to this fortunate position, offers to its guests beautiful rooms furnished in Florentine style, decorated with unique panorama views. The flagship is certainly the Italian-style garden, one of a kind in Florence.
In fact, along with prestigious guest rooms and spacious environments, the green areas that adorn the property are the pride of Hotel Villa Agape, unique corners filled with flowers and fountains in which spend unforgettable moments, or organize parties and events or to celebrate your wedding. Furthermore, the Villa is located just minutes from the old town, has a large free private parking area and is easily accessible by car or public transport. Art Hotel Villa Agape offers its guests a free shuttle service (09:00-22:00) to and from Piazzale Michelangelo and the old town (Porta San Miniato and Piazza Mentana). The origins of Villa Agape are lost in the history. In fact the building seems to date back to the Middle Ages, when it was built as a simple country-house.
In 1469 the Villa belonged to Bartolommeo di Matteo, who gave it to S. Paulo to Pinti Nuns in 1472. Jacopo di Raffaello del Nente bought it from the Nuns in 1547, and in 1602 he sold it back to Giuliano di Filippo Arrighetti, and since then Villa took the name of Villa Arrighetti. From Giuliano's branch, Andrea became Senator to Ferdinando II, and was also a great scholar, man of letters, academic of Crusca, plus being a friend and follower of Galileo Galilei. Villa Arrighetti, however, owes its entire and present magnificence to the Duchess Anne D'Orléans, widow of Amedeo Duke of Aosta, which bought in 1948 from Mrs. Royle Cladyf, daughter of George Macleam, and she adorned it with gardens, statues and fountains.
In a large area located between this Villa and Via Torre del Gallo, whic runs along the property, there is an abundance of green. Here there are two amazing magnolia trees that, together with the jasmin, covers the whole boundary wall, making the air sweet and scented. This landscape offers the visitors a delightful and attractive view. In 1968 the Duchess Anne D'Orléans, was determined to leave Florence. As she wanted her Villa to be returned a religious community, she turned to the Right Reverend Father Vittorino Aldinucci to ask an advise. He was, at that rime, Abbot of San Miniato al Monte, the church where she used to attend the Holy Mass, every Sunday. The Abbot suggested her directy the Stabilite nella Carità Sisters. So in that year Villa Arrighetti became the new house of the Stabilite nella Carità Sisters, and place for spiritual exercises, conferences, meeting, studying days, short or long periods to rest in solitude for physical and spiritual relaxing.
The nuns renamed the Villa in Villa Agape, from the Greek word meaning "banquet". The sisters remained there until 2014, and 2015 Villa Agape, with a new management, has become a wonderful hotel in the hills of Florence, thanks to a big renewal of its halls and rooms. The rooms are now all equipped with an independent air conditioning system, free high-speed internet connection via wifi, and an elegant furniture designed with care. Visit the webpage of the rooms of Villa Agape.