Sea View Apartments Hotel (2 Star Hotel)
The Sea View Apartment Hotel is a deal place for vacation or business trips with modern spacious and friendly rooms. An ideal hotel for either a holiday or a business trip with modern and spacious rooms, excellent service, high-quality service, comfort, and elegance. Guests will taste Greek hospitality in a warm and friendly atmosphere, enjoying the pool with a suitable area for sunbathing for those who want to stay away from the crowded coast.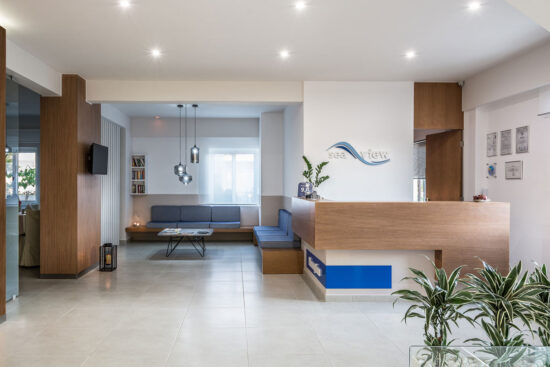 Its privileged location, just 2.5 km from Chania, guarantees tranquility and serenity, but also an outstanding view, from all its rooms, all of which include a balcony overlooking the Cretan Sea and the beach of Aptera (100 m.)! Amongst the available amenities are satellite channels, brand care products, Wifi, an outdoor pool with lawn, a fully equipped kitchen, and comfortable parking.
On the other hand, we should not forget to mention the delicious certified Greek breakfast, for which it has been awarded by the hotel chamber. At Sea View Apartments Hotel you will experience the ultimate Greek hospitality in an affordably luxurious, friendly, and tranquil environment with great value for money prices.