Minoa Palace Resort (5 Star Hotel)
Minoa Palace Resort Hotel in Chania was built in 2002 and has been established as one of the leading 5-star resorts in Chania, Crete. It stands out due to its aura of tranquility, harmoniously blended in with the ocean breeze and the lush green surroundings. A preferable choice for artistic meetings, the resort is an equally great host for all sorts of corporate events, conferences, meetings, parties, and wedding ceremonies.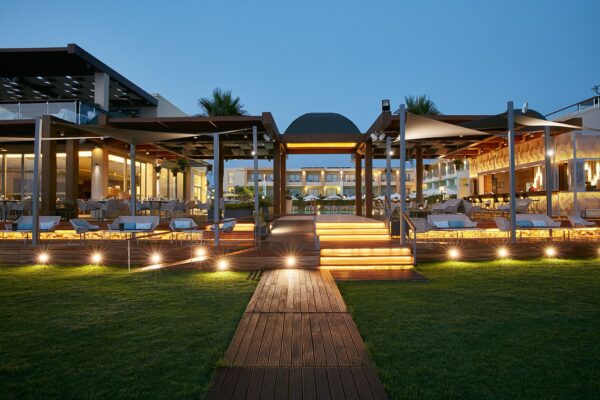 Today, covering 35,000 sq. m. of Cretan land in the popular tourist resort of Plataniás, this luxury 5-star hotel in Crete enamors guests with its majestic surroundings, the miraculous views to the shimmering Aegean Sea and the White Mountains as well as the high-end facilities and bespoke services offered.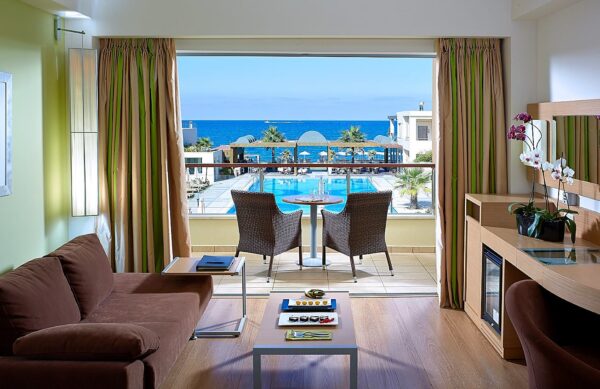 To further enhance the overall guest experience, the hotel was expanded with an aerial bridge connecting the Main Building Bungalow complex with the Imperial Beach Wing thus offering immediate access to the beach from both buildings. Focusing on the well-being of every individual this gem of a luxury hotel in Chania masterfully combines discreet luxury and comfort with attention to detail and attentive service ensuring a holiday beyond imaginable.