Heroes' square
The Heroes' square (Hősök tere), built to celebrate the millennial anniversary of Magyar Hungary is located at the end of Andrassy Avenue, at the entrance of the City Park. On its flanks the Fine Arts Museum & the Hall of Art of the Kunsthalle. The biggest square in the city with the statues of the most emblematic figures in Hungarian history and a statue of Archangel Gabriel's statue that sits on the central pillar of the square.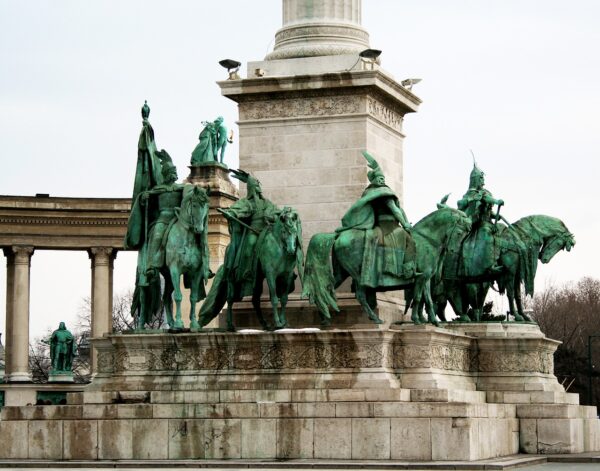 The Millennium monument was placed in the center of the Eastern part of the Heroes ' square in 1896 and was completed in 1906. Today the square is a favorite of National holidays and ceremonies while it is flanked on its north side by the neo-classical buildings of the Museum of Fine Arts and the the contemporary art museum known as the Hall of Art on the south.
The following statues and reliefs can be seen in the left colonnade (first the statue, then the subject of the relief):
King Saint Stephen; István receives the crown from the Pope on Christmas of the year 1000.
King Saint László; László defeats the valiant Kun who steals girls.
King Kálmán the Book; Kálmán forbids the burning of witches.
II. King Andrew; II. Andrew leads a crusade to liberate Jerusalem.
ARC. Béla; Béla rebuilds the country after the Tatar invasion.
King Robert Charles; the Second Moravian Battle. (The only relief without an inscription, not by chance: this battle did not take place during the reign of Charles I. So it is a mistake, which they tried to disguise by not writing anything under the work.)
King Louis the Great; Louis the Great enters Naples, 1384.
The following statues and reliefs were located in the right colonnade (first the statue, then the subject of the relief):
Governor and general János Hunyadi; Hunyadi stops the Turkish invaders with his victory in Nándorfehérvár.
King Matthias Hunyadi; King Matthias among his scholars.
Transylvanian prince István Bocskai; Bocskai in Hajdú battle with the imperial mercenaries.
Prince Gábor Bethlen of Transylvania; Bethlen makes an alliance with the Czechs, 1620.
Thököly Imre Kuruc leader and Transylvanian prince; The Kurucs of Thököly defeat the Labans in the battle of Sikszó, 1679.
II. Ferenc Rákóczi, prince of Transylvania; Tamás Esze welcomes Prince Rákóczi, who is returning from the Poles, with his army of serfs.
Lajos Kossuth; the call to arms of the people of the Great Plains with the Cegléd recruitment speech.
At the top of the two semicircular colonnades, you can see the two-horse chariots of War and Peace, as well as the allegorical bronze figures of Work and Prosperity, and Knowledge and Glory.
The Heroes' Memorial Stone was added here later: the robust memorial stone was placed in the square in honor of the heroes of WWI.