Central Youth Hostel
Central Youth Hostel offers an affordable and enjoyable means of accommodation for a new generation of open-minded travelers and young tourists who, like us, want to discover and enjoy a new city by meeting local people. The hostel's management commitment,
is to put as much care and energy into the quality of decoration, services, and hospitality, to make sure you spend the best time here and of course spread the word.
Central Hostel has 4 dorms that can accommodate up to 6 people, 8 dorms with 8 bunkbeds, as well as 3 double rooms. All of them are calm, bright, and secure. They have been designed to suit all your needs as around-the globe travelers. It's like sleeping in a 5* hotel but you get to meet fun people along!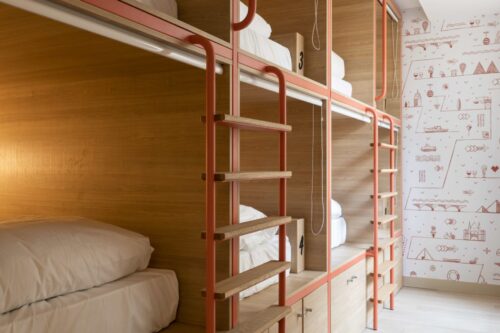 Get ready to sleep in the hostel's cozy rooms and comfy custom beds, with sheets almost as soft as silk. Rumor has it that Central Hostel is indeed the perfect match for a great weekend in the city center of Bordeaux for those with a small budget but very high expectations! More