Best Western Grand Hotel Francais
Best Western Grand Hotel Francais – 3 Star Hotel. The rue du Temple owes its name to the convent and the church founded by the Templars in 1158. At that time, there was a chapel that was destroyed a few years before the French Revolution. The current Rue du Temple was then completed in 1789. On the site of 12, there was a building next to this chapel, in very poor condition, in which a printer was installed.
The property passed from owner to owner and was finally demolished and rebuilt as a hotel in 1872, the ancestor of the current hotel. For its location in the heart of the city, it was during the Second World War one of the places of entrenchment of German officers and some vestiges still bear witness to this period of occupation in the basements of the hotel.
In 1987, Jean Auriacombe bought the Grand Hôtel Français, then in very poor condition and closed for four months. Eight months of work then began, necessary for the total renovation of the establishment. A good visionary, he understood in 1989 the interest of joining a voluntary group by integrating the Best Western cooperative.
While benefiting from the international reputation of Best Western, the Grand Hôtel Français has kept its total independence and its uniqueness. His son, Frédéric Auriacombe, assisted by his wife Sandrine, has run the hotel for 10 years and is committed to ensuring the transmission and conservation of this family and historical heritage. Frédéric and Sandrine Auriacombe have over the years launched the renovation and upgrading work necessary to maintain the hotel at an optimal level of quality and comfort.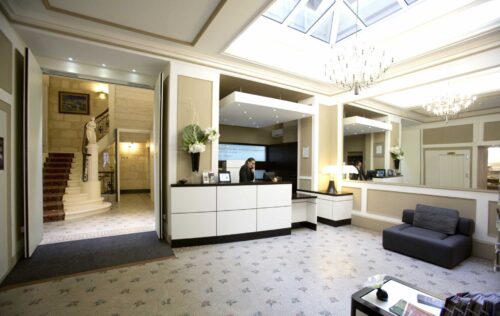 Thanks to these efforts, the Best Western Grand Hôtel Français is thus the only hotel in Bordeaux to be included in the Michelin Guide since the creation of this collection. In 2010, awarded for its environmental policy, the Best Western Grand Hôtel Français was the first hotel in Bordeaux to obtain the EUROPEAN ECOLABEL eco-label. In a setting where charm and authenticity combine with modernity and conviviality, Frédéric and Sandrine Auriacombe sincerely carry the values ​​that are dear to them and make the Best Western Grand Hôtel Français a unique hotel. More