Piazza Maggiore
The creation of the current Piazza Maggiore began in 1200, with the beginning of the construction of the Palatium Vetus Communis Bononiae (later Palazzo del Podestà ). This of course required the creation of an open space. From its creation until the end of the fifteenth century this open space (which continued to expand, through the purchase of buildings by the municipality and subsequent demolitions) was called Curia Comunis or Platea Comunis. The name Piazza Maggiore began to be used in the 16th century.
Given the vastness of the square, some parts of it had, over time, specific names. In the sixteenth century, there was a royal square which was the part of Piazza Maggiore in front of the Palazzo d'Accursio and a Piazza Montanara, also known as Malcantone, which was at the entrance to via d'Azeglio. There was also a Pollarola square (which in the nineteenth century became Piazza Uccelli ), in front of the mouth of via degli Orefici. Also worth mentioning is the Bravaria, in front of the Palazzo dei Notai.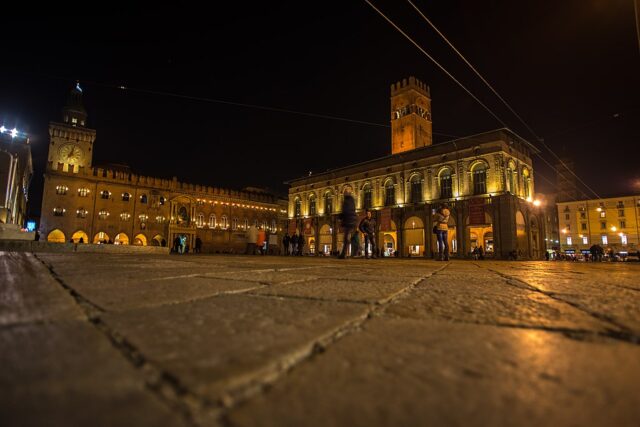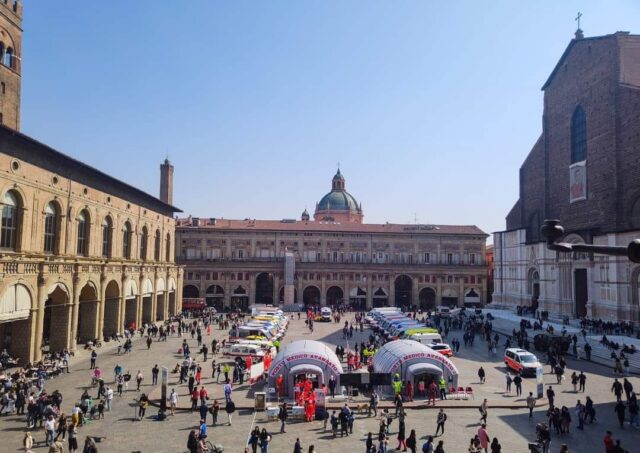 The Napoleonic reform made the only name of Piazza Maggiore official. After the unification of Italy, the name of Vittorio Emanuele II was assigned to the square, a name that was confirmed by the administrative reform of 1873/78. In 1944, during the period of the Republic of Salò, the square changed its name to Piazza della Repubblica, to finally return to Piazza Maggiore once the war was over, with a council resolution of 23 October 1945.
Piazza Maggiore is bordered to the north by Piazza del Nettuno and Palazzo Re Enzo, to the east by the Palazzo dei Banchi, to the south by the Basilica of San Petronio and the Palazzo dei Notai, to the west by the Palazzo d'Accursio. The streets of the Orefici, Pescherie Vecchie, Clavature, dell'Archiginnasio, de 'Pignattari, d'Azeglio and IV Novembre converge there.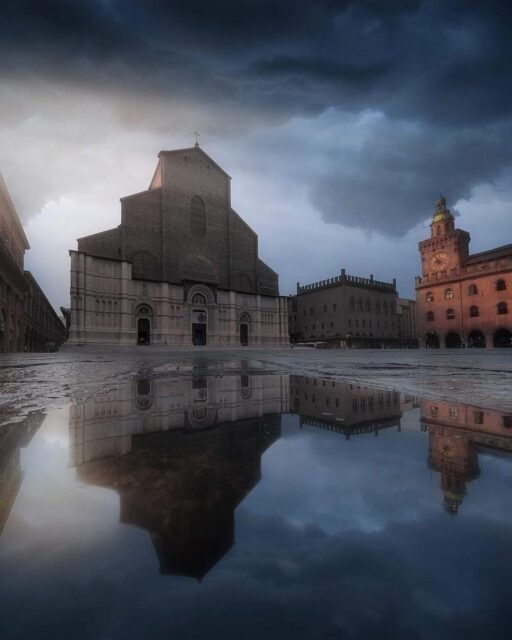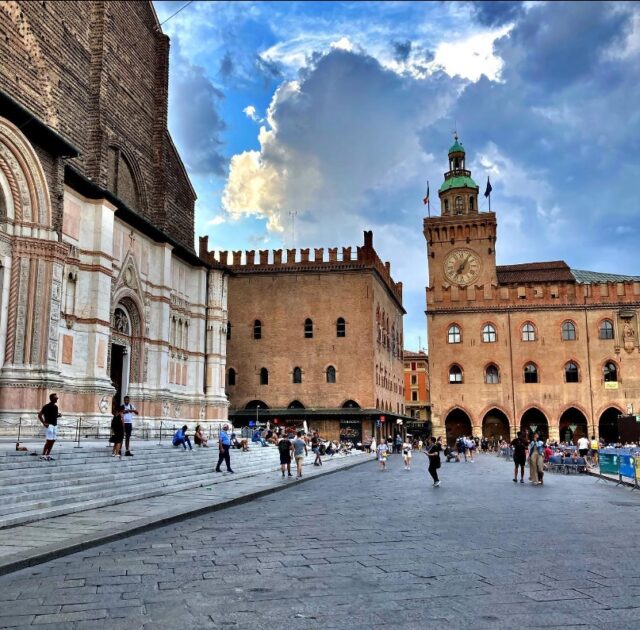 This square is so picturesque and so loaded with history. There were public celebrations with horse rides like the Carnival when the square was surrounded by scaffolding upholstered in crimson velvet and took on the appearance of an open-air theater. In the theatre feasts of arms took place very popular in the seventeenth century.
There were feasts like the Porchetta Festival with August 24 (San Bartolomeo) representing the culmination of ten days of celebration that began on the eve of August. In Piazza Maggiore, grandiose stage machines were set up, and horse races, theatrical performances, and feats of jugglers were carried out. The name derives from the fact that the day ended with the launch of a roast suckling pig offered by the Legate to the people. The events that took place in the course of history in this square are more or less the most representative and formative events that took place in the city. Paying your respects to it is a homage to Bologna itself.