Teltower Rübchen
Teltower Rübchen. At long last. Something that would make vegetarians rejoice. The Teltower turnip is a Brandenburg specialty. Within the cabbage family, it belongs to the group of turnips, together with May, autumn, and water beets as well as white beets. Teltower turnips are special small turnips that require relatively nutrient-poor, loamy, sandy soil that does not tend to be dry, but must also not be exposed to high levels of moisture. Attempts to grow the Teltower turnips in other regions failed.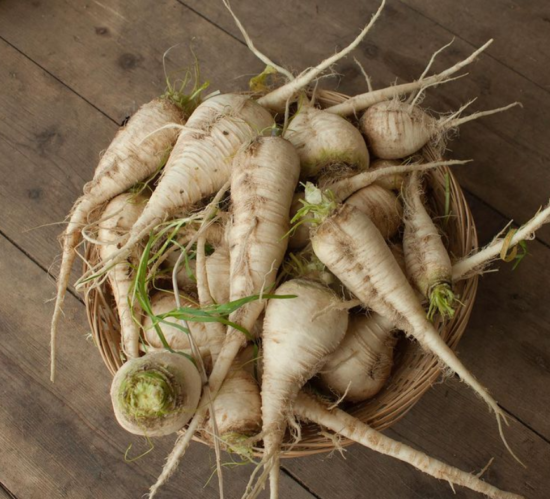 As early as the 18th century it was recognized that the seeds of the variety did not produce the characteristic taste under different soil and climatic conditions.  The Teltower turnip is characterized by four important features: The first characteristic is the slim, conical shape of the turnip with a long tapering root tip. The second characteristic is raised horizontal stripes. The third characteristic is fine secondary roots that are arranged in two flat longitudinal grooves.
The fourth characteristic is a gray to brownish-white (never yellow) color. Since the large areas that were created in the GDR were machined through the formation of the cooperatives, the labor-intensive cultivation of the Teltower turnip in relatively small quantities was not worthwhile. It is only thanks to the hobby gardeners that the 300-year continuity of cultivation has not been broken. The historic cultivation area of ​​the Teltower turnip is located on the loamy sandy soils of the Ice Age plateau in the Teltow in Brandenburg.
The taste is aromatic, piquant, and with a certain sharpness that resembles the radish. Its smell is only pronounced when cleaning. The Teltower turnips have a high health value. Due to their originality, they are above average rich in vitamins, minerals and secondary ingredients such as glucosinolates, which have a preventive effect against cancer.
The oldest Teltower turnip recipe can be found in the Brandenburg cookbook by Maria Sophia Schellhammer (probably 1723). Napoleon's troops brought the Teltower turnips to the emperor's court as "navets de Teltow" ("turnips from Teltow"). The Teltower turnips were praised by Johann Wolfgang Goethe, Theodor Fontane, and Immanuel Kant. Today the small turnips from Teltow are eaten as a delicious side dish or raw in a salad.