Visit Tierpark
Visit Tierpark to support wildlife preservation. The Tierpark Berlin has its roots in the partition of Germany after the Second World War. The famous Zoological Garden was now situated in the British sector of Berlin. The GDR's state leadership wanted to establish a rival zoo of equal standing. After the division of Berlin, the East German government wanted a zoo in the eastern part of the city that was as popular as Zoo Berlin in the west.
The chosen location was the park of Friedrichsfelde manor house, designed by renowned landscape architect Peter Joseph Lenné. In 1955 Europe's biggest animal park opened – home to 130 different species. In 1963 the Alfred Brehm building opened becoming a global sensation as the world's largest animal house at that time. The walk-through Tropical Hall featuring tall cliffs, moats and fruit bats was unique.
In the decades to come, around one million species could vanish from our planet forever – but with the right conservation measures, we can ensure that many of these endangered species are protected over the long term. With your support, Berlin's zoological facilities can support innovative conservation projects around the world. (See here)
Majestic tigers, venomous snakes and exotic birds await you in Berlin's wildest jungle! The newly renovated Alfred Brehm building whisks you away to the tropical islands of Southeast Asia. Families visiting Tierpark Berlin can enjoy a "day by the sea" at one of the city's most charming water play areas.
Various maritime features give visitors of all ages the feeling of being on a seaside holiday. And the kids will love it! Goats, sheep, donkeys and ponies are eagerly waiting to be stroked by gentle hands. Pay a visit to Berlin's gang of cheeky monkeys! At the Monkey House you will meet various monkey and lemur species from around the world – and discover some unusual animal flat shares.
Friedrichsfelde manor house and its surrounding gardens take you back in time to 18th-century Berlin.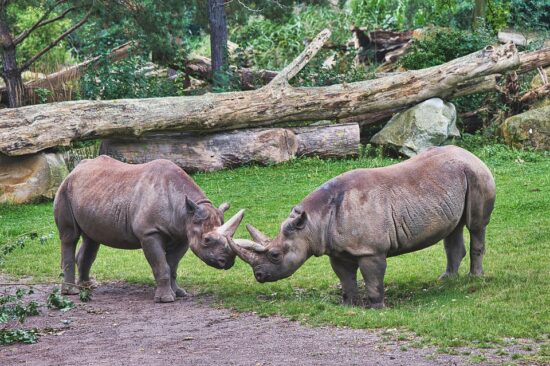 A particular highlight is the neo-classical banqueting hall, which regularly hosts cultural events. In the Lemur Woods you can get up close to inquisitive ruffed lemurs. An enormous open book functions as a portal into an enchanted world and magical woodland play area, where new adventures await! The Himalayas come to Berlin: On the slopes of a cloud forest, adorable red pandas clamber along branches high above the heads of unique tufted deer. The path winds its way upwards through dense bamboo groves and past François' langurs, takins and snow leopards until it emerges from the tree line at "the roof of the world" – with a wonderful view over the city! Soon you will be able to enjoy the remarkable world of Himalayan animals right here at Tierpark Berlin. More